Who is online?
In total there is
1
user online :: 0 Registered, 0 Hidden and 1 Guest
None
Most users ever online was
11
on Sun Jan 09, 2011 9:03 pm
Statistics
We have
17
registered users
The newest registered user is
flurlara
Our users have posted a total of
512
messages in
104
subjects

Is this the best racing game in playstation History?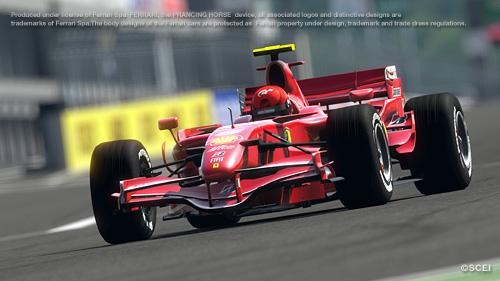 (
Picture of a Ferrari F1 in Gran Turismo 5
)
Graphics:
All i can say is wow. The graphics in this game are AMAZING. They are, in my opinion, the best graphics you can find on the PS3, or any current gaming system for that matter. The cars are highly detailed, it's like your looking at the real thing. When you use a premium car, you can sit inside the car for one of the views, and the inside of the car in the game matches the car in real life. The tracks are also highly detailed. Most of the tracks are real tracks, and match what the tracks real layout is. When there is a weather change, (Rain, snow, etc.) the rain, snow, etc. is also very detailed. Damage is realistic, there is also tire wear. I give graphics a
10/10
. I would give it a 1,000,000/10 if i could. Lol
Audio:
Just like the graphics, all i can say is wow. The audio in this game is crystal clear. When the car hits something, it makes a realistic bump. The engines sound identical to the real cars. Even the brake skids sound real. The music matches this game perfectly. It's not hard rock or anything you would find in motorstorm, but more of a, calm, relaxed type music. You can even set the game to play your own music that is on your PS3 HDD. One great thing about this game is the online voice chat. It has the best voice chat any ps3 game can offer. Its extremely high quality, and it doesn't sound like garbage like black ops voice chat. I give audio a
10/10
.
Story:
Gran Turismo 5 is a racing game, there-fore it doesnt have a story like most other racing games. So I'm going to skip this one for this game.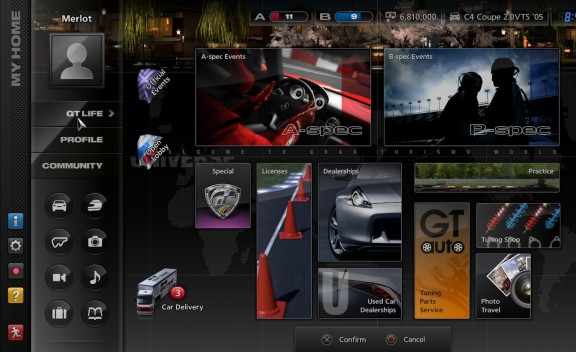 (
Image of "My Home" the menu you will be seeing the most on GT5
)
Game-Play:
The game-play from Gran Turismo 5 is a lot like past Gran Turismo's, but still has a lot of new features. There is a-spec mode as always. Which is your basic campaign featuring 5 difficulties and a lot of different races to choose from. There is also b-spec mode, which is when you tell a driver what to do; you aren't actually driving the car. There are some new things like track building and seasonal events. There is an offline used dealership and an online used dealership which both include different sets of cars. Online mode is really fun. You can race with up to 15 other players, or you can just do free run. There is the new kart races, which are also really fun. The game features more then 1000 cars, so you have plenty of cars to collect. If you haven't played any of the past Gran Turismo's, then i guess i should explain the actual game-play when you drive the car. This is not your average racing game. This isn't any of those fake racing games like split-second, need for speed, or burnout.This is one of the most realistic racing games you can get. You actually have to BRAKE

unlike on those games i just mentioned. When you hit a wall, you might take some damage and one of your axels might become bent. Like i said, this game is extremely realistic. I give game-play a
10/10
.
Lasting Appeal:
I can play this game for hours on end and never get tired of it. The game offers a wide variety of things to keep you interested. The game includes 71 tracks and more than 1000 cars, what can i say, it should keep you interested for a long time. One good thing is that the Gran Turismo team updates the seasonal events every 2 weeks or so. When playing the seasonal events you can make a lot of money; which also keeps you interested, More Money= More Cars you can buy. Online is really fun, i play with my friends almost everyday, I give lasting appeal a
10/10
.
All together, I give Gran Turismo 5 a
10/10
, Perfect score! This game is a must have for any PS3 owners.
Admin





Posts

: 152


Join date

: 2010-09-12


Age

: 22


Location

: Georgia



i enjoy the game but most of the time i have no idea how to freakin do stuff. i hate driving but the game is great




Posts

: 154


Join date

: 2011-01-02


Age

: 26


Location

: Las Vegas NV




---
Permissions in this forum:
You
cannot
reply to topics in this forum