Who is online?
In total there is
1
user online :: 0 Registered, 0 Hidden and 1 Guest
None
Most users ever online was
11
on Sun Jan 09, 2011 9:03 pm
Statistics
We have
17
registered users
The newest registered user is
flurlara
Our users have posted a total of
512
messages in
104
subjects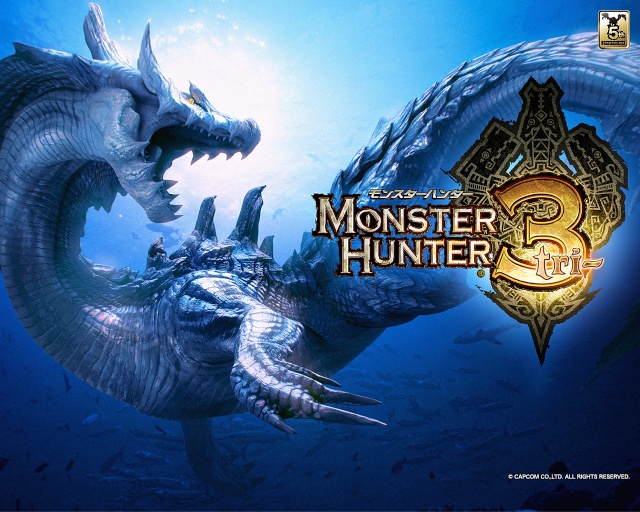 Is the wii a good system for the newest Monster Hunter game?Graphics:
The graphics on this game are some of the best I've ever seen on the Wii. They are way better then the PSP and PS2 graphics from the past Monster Hunter games. They run at a smooth 60 FPS. The monsters in the game are greatly detailed, so is the armor you wear. The scenery is beautiful. It really helps make this game one of the best on the wii, seeing how most game games have terrible graphics. I give graphics a
10/10
.
Audio:
The audio in this game is made by a Japanese orchestra. Its one of the best orchestra's I've ever hear in my LIFE. In fact I loved the music from this game so much that i bought the full sound track from amazon.com. The audio is clean, it's not rough. The audio is cleanly cut. The audio fits the theme of the game very well, and offers a wide variety depending on where you are in the game. I give audio a
10/10
.
Story:
Monster Hunter isn't really meant to have a large story, but ill explain the basics to you anyway. There are lots of earth quakes occurring on Moga Island. Nobody can figure out what is causing them or why. At the beginning of the game the city is crowded around the village chief and the chiefs son. You then step up to tell the chief and his son you are a hunter and will find the cause. The chief suspects it is a monster that has been terrorizing the island for quite some time, Lagiacrus (The one pictured above and on the box art). You then set out on your journey and work your way up to become top hunter and hunt down Lagiacrus. Like i said, monster hunter is more based around quests and not a story, so i give the story a
7/10
.
Game-Play:
To start off, i just need to let you know, if you plan on getting this game, GET THE CLASSIC CONTROLLER PRO (or the bundle). The game is garbage without it. The wii-mote and nun-chuck are really hard to use while playing this game. Game-play is obviously based around hunting monsters, although there are some other aspects to the game (Like gathering items). On most quests you have a 50 minute time limit. This is easily achieved in most of the quests, but in some of them where you have to hunt down larger monsters, you might be cutting it a little close. Monsters take a little while to kill, unlike other games. It may take you about 30 minutes to beat a Royal Ludroth (Pictured Above), which is a fairly hard monster (Unless your a higher level like me). Each type of weapon has different strengths and weaknesses. There are to many for me to explain so if you have some free time go look on the monster hunter wiki. Certain weapons have certain elements. As an example, the switch Axe I'm currently using is electric, so it causes paralysis when in sword mode. In total, i give game-play a
9.5/10
.
Lasting Appeal:
I've played the game for a total of 37 hours and I'm not even half way through. That really says something. This game is long lasting, probably one of the longest games I've ever played on the wii. Monster Hunter Tri also has online play with up to four players. Which is really fun. It's basically story mode, but a lot funner. I play with a good friend of mine almost everyday. But back to what i was saying. Even after you beat the game, there are still items you can collect in order to forge armor and weapons which you could not get before. If you want a long lasting wii game for a good price, Monster Hunter Tri is for you. I give Monster Hunter Tri a
10/10
as far as lasting appeal goes.
In total, I give Monster Hunter Tri a
9.3/10
. If you own a wii and your looking for a hardcore wii game, this is the game for you. Probably the best wii game I've ever played.
(If you want to buy the Monster Hunter Tri Soundtrack, here is the link:
http://www.amazon.com/Monster-Hunter-Tri-Original-Soundtrack/dp/B0040ERZS2/ref=sr_1_2?ie=UTF8&qid=1294707063&sr=8-2
)
Just to let you know, if you still have a wiispeak, this game is compatible with it.
Admin





Posts

: 152


Join date

: 2010-09-12


Age

: 22


Location

: Georgia



IMO the game was easier to play using the wiimote and nunchuck, also try not to use the word hardcore or casual games because in reality they don't exist. This game was a fairly decent and I like the fact that you can make supplies out of your surroundings. A problem with the game is that the fighting was very boring due to the repetition of the same moves. It would have been nice if the game had more attack moves to use or get. The game should have also not made gunner armor have half the value than it should since they are the ones that get targeted the most unless you have that stealth skill.
The online was fun but it's not as fun when you play with random people that go and mess things up or can't communicate with them unless you are talking with them on skype or something.
They should have also given people lives while playing online because when you have people share lives it all goes apeshit.
The online could have gone without the level up system as well.
It doesn't do much so they could at least capped it at 60 or something.
Also the "story" of the game is more or less just being a bounty hunter that came to rescue a town in need.
Trying to implement a story in this game is like trying to give tetris a story.
The game was about a 3/5, it wasn't bad just not amazing.



Posts

: 48


Join date

: 2011-02-01



i didn't like it much

but i also only played it for like 5 minutes so yea.



Posts

: 45


Join date

: 2011-02-01



it gets alot funner when you get to battle the bigger monsters. Plus, where you using the classic controller pro?
Admin





Posts

: 152


Join date

: 2010-09-12


Age

: 22


Location

: Georgia



I wanted the game but i r sold wii. (yes blake sold his wii. i gots a good price forz it)



Posts

: 154


Join date

: 2011-01-02


Age

: 26


Location

: Las Vegas NV





Similar topics
---
Permissions in this forum:
You
cannot
reply to topics in this forum